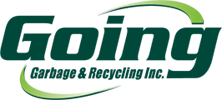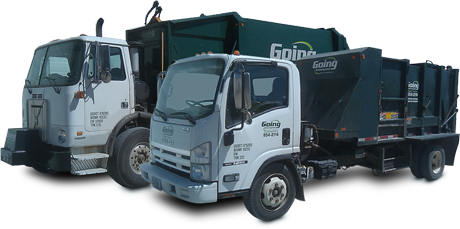 Residential Service
We offer three kinds of service to our residential customers. Roadside Cart Service is our most popular service and includes combinations of 90-gallon and 30-gallon carts for trash and recyclables. Our Premium Drive-in Cart Service is "Worry-Free" collection with our mini-garbage truck and includes one or more 90 gallon or 30 gallon carts. Carts are provided for you at no extra charge when you sign up for service. Our Green Bag Service is perfect for those who generate a small amount of trash or are here for a short period of time.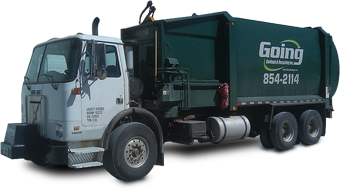 "Service you can count on at a price you can afford!"



Our best value service for weekly pickup is an environmentally efficient express service on all public roads in our service area. This is also our most popular option, and includes combinations of 90-gallon and 30-gallon carts for trash and recyclables. Our fully automated truck will pick up your cart when you place it at the end of your driveway alongside the public roadway. Choose the length of service that fits your situation.

This "Worry-Free" service is neat, clean, safe and reliable. Our mini garbage truck is easy on your driveway, fits perfectly down your private drive and will pick up your carts right at your house or garage. No need to drag your carts to the end of your driveway and back again!Choose one or more 90-gallon carts for trash, paper, bottles and cans in the combination that will work best for your family.No minimum service period is required. Flexible schedule options fit your needs. This is a great option for those wanting to take the "work" out of pickup day.


For those who don't generate much trash or are not here for an extended time and don't require the convenience of home pickup, we offer an economical solution using our Going Garbage "Green Bags".
These prepaid bags can be purchased in our office at our Drop-off Site at 10564 Old Stage Road in Sister Bay.
They can be dropped off at the Drop-off Site during regular hours, or at your convenience 24/7/365 in the special container for these Green Bags only, located outside our drop site gate for after hours drop off.
Green Bags must be tied at the top and not exceed the weight or volume capacity.


Our Temporary Open-Top Bins and Roll-Off Services are perfect for your temporary project.
Small construction
Remodeling
Household clean-out
Major construction
Major demolition
Rates are based on a delivery charge, the weight of your contents, and daily placement fee.
Carts
These easy to handle lightweight, durable carts roll easily even with heavy loads. The one piece handle provides a strong gripping area and the wide wheelbase makes maneuvering easy.
30 Gallon Cart


This is our standard cart for paper and commingle (plastic, glass, aluminum, tin) recycling.
90 Gallon Cart


This is our standard cart for trash. It is available also for greater paper or commingle recycling needs.
Truck Information
Drive-in Service Truck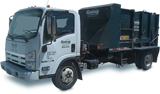 This smaller size truck is easy on your driveway and can easily maneuver on long driveways and private drives. The driver moves your carts from their location to the truck's automated arm for loading. The truck has two compartments for trash and recyclables.
Automated Roadside Truck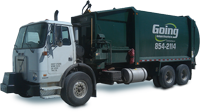 This large, fully automated truck travels down the road stopping at the end of your drive. The driver operated automated arm will lift and empty your carts without the driver leaving the truck. The truck has two compartments for both trash and recyclables.
Custom Item Pickup Truck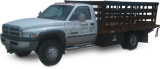 Our Stake Bed Pickup Truck with Lift Gate Service is available for custom item pickup for a reasonable fee. We can send this truck to your residence or business to pick up items you are unable to transport. If loading time exceeds 15 minutes, additional fees may apply.
Contact our office for more information and to schedule your pick up.


The weekly calendar is an easy to use reference informing you about our weekly recycling pickup and holiday schedules.
Sister Bay Residents
Going Garbage & Recycling is proud to service The Village of Sister Bay. Below are links referencing specific instructions for the service provided to Sister Bay residents.
(Links apply to Sister Bay residents ONLY)
Cart Placement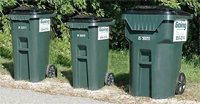 Due to the right side and overhead clearance needed for the "automated" truck to lift properly, we ask you to place your carts in a specific position and location as follows:
The cart(s) must be placed on a hard, level surface, near the road with the handle facing away from the street, with a perimeter of 3 feet clearance from any obstacles, such as mailboxes, retaining walls, ditches, snow banks, etc.
There must be a 15-foot overhead clearance, so please be sure that the cart(s) are not placed under any low hanging trees, power lines, etc.
The cart(s) cannot be more than 6 feet back from the edge of the road or street or the arm will not be able to reach it.
There must be no lid fasteners of any kind other than a hinged lid. Bungee cords, rocks, ropes, etc., cannot be used.
If there is more than 1 cart, the carts must be set side by side as indicated above with at least 2 feet between each cart.
The cart(s) have a maximum weight capacity indicated on the cover. Please be sure that the carts are not overfilled by weight or volume. If any item prevents the cover from not closing all the way, the container is considered overfull.
Extra items outside of the cart(s) will not be taken with out prior authorization from you. Please contact our business office to schedule extra item pickups.
Refer to our Residential Cart Placement Instructions (PDF) for a detailed drawing of cart placement.
Copyright - Friday 08th of December 2023 - aBG Design, LLC